Embedded Payments
for Platforms
Integrate payments into your platform, software or marketplace, and let your customers sign up, sell and receive payments quickly. Forget frustrating, time-consuming set-up processes - onboard your customers quickly, so they can start selling online and processing payments quickly and easily.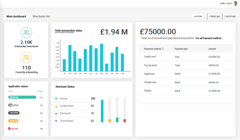 Trusted by hundreds of businesses
Grow your revenue from every transaction
Earn revenue from each transaction that's made through your platform. Set your own fee levels, choose from flexible split and settlement options, depending on your business model.
Branded payments journey
Choose to integrate using our APIs to build an online experience branded to you and deliver a frictionless payment journey on your website or mobile.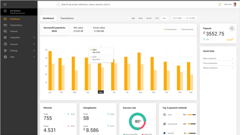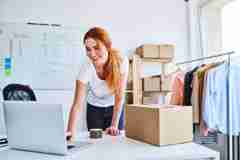 Route and manage funds
Reduce your manual admin by splitting funds between your platform, different bank accounts and your sellers; and ensure your customers are paid quickly to maximise their cashflow. No need to pay invoices or set up Direct Debits for pay outs.
Pay by link
Set up and receive payments over the phone or via email, without the need for a website. Simply create and set up a payment request link and monitor the payment process from start to finish. You can even white label the whole experience within your own platform.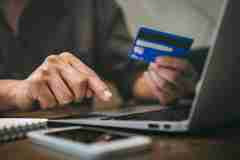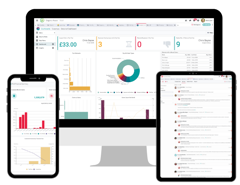 Insights to scale
your business
Our robust reporting suite and advanced analytics provide a transparent view of settlements including pay by link payments.
Accept a wide range of payments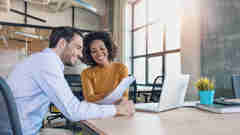 Flexible commercial terms
and competitive pricing
No matter the size or shape of your business, our flexible commercial terms and custom pricing mean it's easy to control costs and earn more revenue from your platform. We can tailor features, functionality and processes to meet the challenges that you face.
Find out more about embedded payments
Access PaySuite Embedded Payments FAQs
What is embedded payments for platforms?

Our embedded payments for platforms software is our brand-new integrated payment facilitation platform, designed to work seamlessly with, rather than alongside, your software. By integrating it PayFac into your systems, your end users will each go through an identical onboarding process, so you don't need to ask your customers to seek a merchant account through a third party. A defined and homogenous onboarding journey keeps you in control and minimises the risk of your customers dropping out of the process.

Who is our embedded payments for platforms suitable for?

Our embedded payments for platforms software is aimed at independent software providers (ISVs), software providers, platforms and marketplaces owners. You integrate with the platform and can offer a payment channel to your customers. Whether you are new to payments or already working with an alternative payment provider, we can help you to get the most out of payments. We serve a range of market verticals, including education, the public sector, housing, banking, insurance, retail and more.

Alternatively, if you are an end-merchant that wants to take payments in your business, our team can discuss different options available to you.

Call our team on 01332 477 853 to learn more.

Which payment methods are available through our embedded payments for platforms?

Our embedded payments for platforms software caters to a diverse customer landscape by offering multiple payment methods. You can take payments by Visa, Mastercard, Google Pay, Apple Pay and Open banking.

What is a payment facilitator or PayFac?

A payment facilitator, sometimes known as a PayFac or PF, is an alternative to the traditional merchant service provider. A PayFac simplifies the merchant account enrolment process. It operates on a sub-merchant platform where merchants no longer require their own merchant ID (MID) but are boarded directly under the PayFac's master MID account. Our embedded payments for platforms software is a PayFac platform.

What does a PayFac do?

The PayFac opens a merchant bank account and receives a MID to acquire and aggregate payments for groups of smaller merchants, typically called sub-merchants. The PayFac registers its master MID with an acquiring bank. This means that sub-merchants don't need to register their unique MIDs —instead, transactions are aggregated under the PayFac's master MID.

This reduces the complexity and long time frames that sub-merchants traditionally face when setting up online payments on their own, by eliminating their need to establish and maintain relationships with an acquiring bank, payment gateway and other service providers.

What are PayFacs responsible for?

Onboarding customers to be able to take payments

Ensuring that appropriate due diligence checks are undertaken on all new customers including KYC (know your customer) and AML (anti money laundering) checks

Monitoring customer accounts to mitigate risk.